NATIONAL FARMERS HELPLINE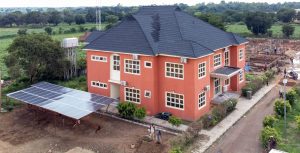 National Farmers Helpline (NFHL) Centre is an agricultural-based Call Centre that provides farmers with a wide variety of agricultural information and advisory services in real-time.
The Centre enables establishment of close linkages and seamless communication mechanism among key stakeholders in the agriculture value chain. The Centre also handles inbound calls, outbound calls and Short Message Services (SMS).
The Centre is located at National Agricultural Extension and Research Liaison Services (NAERLS), Ahmadu Bello University, Zaria, with regional offices in each of the geo-political zones of the country.
With time, the center will provide other Value Addition Services as a one stop farmer help Centre.
National Farmers' Helpline Number: 0813 989 0090
Why NFHL?
The traditional extension services like physical contact with farmsers cannot meet the demands of millions of farm families in Nigeria.
However, with the growing penetration of mobile telephony across the length and breadth of Nigeria, a phone-based extension delivery system will help bring extension services to millions of Nigerians in real-time.
Benefits of NFHL
Bridge the Extension Agents-Farmer ratio
Provide information to farmers in all areas of agriculture (best agronomic practices, commodity prices, input suppliers, weather information, etc.)
Connect farmers to extension enlightenment programmes
Bridge the knowledge gaps amongst farmers with encompassing experience in extension services
Provide linkage to all agricultural stakeholders along the agriculture value chain
Respond to complaints, enquiries and provide feedbacks to all agricultural related issues
Features of NFHL
Covers the entire country including major mobile network providers
Country-wide number
Call forwarding facility with on-site experts
Provide information to farmers in local languages (Hausa, Igbo and Yoruba)
Operates from 8:00am to 4:00pm daily.