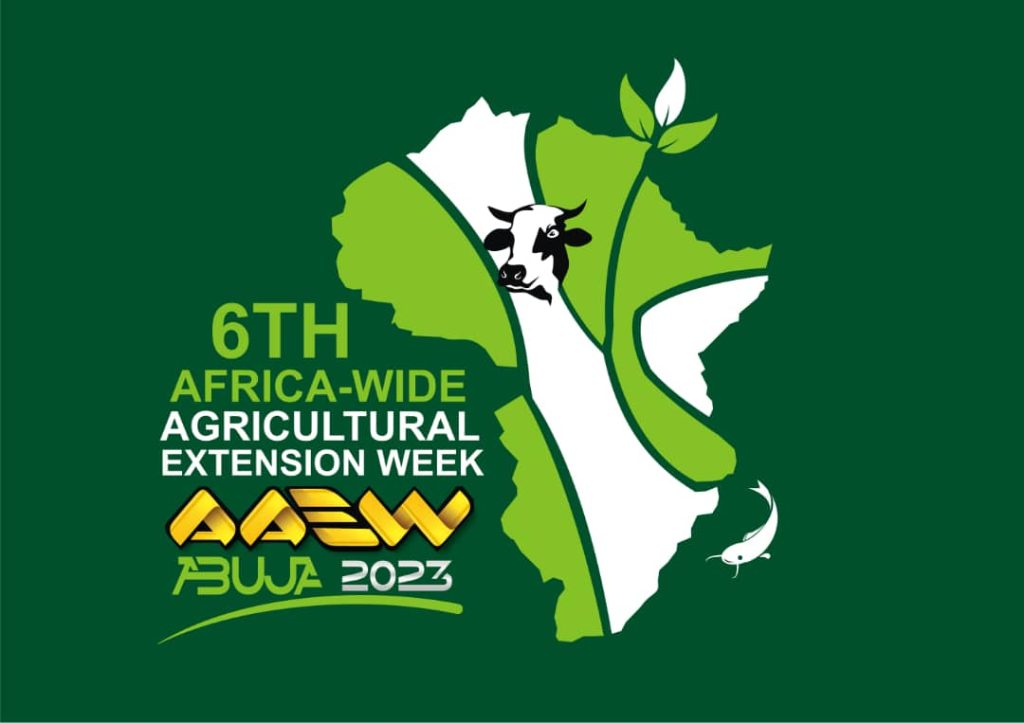 NIGERIA is to host the 6th Africa-Wide Agricultural Extension Week, tagged Abuja 2023.
The Africa-Wide Agricultural Extension Week (AAEW) is a continental event that brings together AEAS providers and other value chain actors across Africa and globally to deliberate on selected strategic and topical themes on AEAS for sustainable development in Africa. Beyond thematic debates, the AAEW is a unique avenue for sharing experiences and learning among professionals from different backgrounds, strengthening interactions with policymakers and investors and developing fruitful partnerships. The AAEW is also a platform for deliberating on new developments, emerging needs in capacity development and defining strategic direction in AEAS for the coming years.
Its purpose is to facilitate processes for improving access to and use of knowledge, technologies and innovations by agricultural value chain actors to achieve their individual, national and global development goals. In essence, AAEW is to rethink and reshape AEAS, based on an accepted Theme and Subthemes in Africa
The African Forum for Agricultural Advisory Services (AFAAS) is a continental body, established by the AUC to bring together National Agricultural Extension and Advisory Services (AEAS) stakeholders in Africa under one umbrella. Its mandate is to accelerate the achievement of the CAADP goals. In this regards, therefore, AFAAS biannually organises the Africa-wide Agricultural Extension Week (AAEW) through the Host Countries and Institutions that express interest in collaboration with the respective Country Fora (CFs). The AFAAS CF for Nigeria is the Nigerian Forum for Agricultural Advisory Services (NIFAAS). AFAAS has organised five successful Africa-Wide Agricultural Extension Week (AAEW) and three symposia, which have contributed to strengthening AEAS in Africa and beyond. The 6th AAEW will be hosted by the Federal Ministry of Agriculture and Rural Development (FMARD) in Abuja in November 2023.
The first AAEW was held in Gaborone (Botswana) in 2013; the second was in Addis Ababa (Ethiopia) in 2015; the third in Durban (South Africa) in 2017; the fourth in Abidjan (Cote d'Ivoire) in 2019 and the fifth in Kampala (Uganda) in 2021. During the 5th AAEW that took place from 14th to 20th November 2021, at Speke Resort Munyonyo, Kampala, a General Assembly was held and Nigeria was unanimously elected to host the 6th AAEW.
In 2022, the Honorable Minister of Agriculture and Rural Development in Nigeria, formally accepted the offer on behalf of Nigeria to host the continental event based on the premise that it will greatly increase the profile of AEAS as well as enhance the functions of AEAS in the country in particular and the continent at large.
The National Organising Committee (NOC) was formally inaugurated in Abuja in November 2022. The event shall be hosted by the Federal Ministry of Agriculture and Rural Development in partnership with the Nigerian Forum for Agricultural Advisory Services (NIFAAS) the Country Forum of AFAAS. NAERLS is a key state actor/ partner in the hosting of this programme.
The Event is scheduled to come up on 5th-11th November 2023 in Abuja.
The key participants in the AAEW will include:
AEAS providers from public (Ministry of Agriculture officials, especially Directors of Extension from AFAAS member and non-member countries),
Farmer-based organisations, farmers, nongovernment organisations (NGOs) and institutions and programmes actively involved in agricultural and rural development;
Private sectors (e.g. telecommunications companies, agro-processors, financial institutions, the media, insurance companies, commercial farmers etc)
Selected groups from the Nigerian Agricultural research and extension systems (NARIs, Universities, ADPs, professional associations)
In addition, private sector and interested individuals will also be given space and to exhibit their innovations.
The key programme contents are:
Plenary sessions for continental dialogues
Paper presentations
Side events
Exhibitions
Field trips
And lots more
For more information, contact: